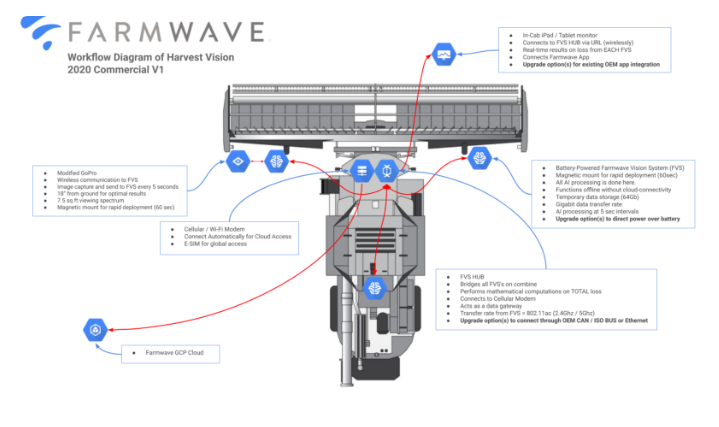 We've had so many discussions and questions over the past few weeks regarding a little more detail of how the Farmwave Vision System will work from an operating workflow. The below diagrams represent these workflows.
Farmwave's Harvest Vision will be released by Q4 2020 with a limited release of 250 units through an exclusive dealer network in the US with a bigger release scheduled in 2021.
Our Sprayer Vision is out in beta during the 2020 growing season collecting data for a limited release in Spring 2021 in the US.
We're also beginning the data collection of expanding our capabilities into small grains, (wheat, barely, canola), as well as cotton for 2021 additions to the Farmwave Vision System(s).
The hardware device is the same across harvesters, sprayers, and eventually planters; it's the data package that will change when you change "jobs". Through a dashboard console in the existing Farmwave App you'll simply choose the device, (Camera 2 as an example) and choose what "job" it's going to do today.
Camera Unit #2

Harvesting

Machine Make

Model

Placement (

such as header or cleaning area in harvesters

)

Crop
It will then load the package and be ready for that particular job. Once the data package is loaded it does not require cloud connectivity to run but will connect to cellular or wi-fi when available to back-up data and load updates or additional features, (crops), as they become available.
The workflows below represent the independent, stand-alone, Farmwave Vision System. This will be machine agnostic without any integration into the machinery. Data will flow, in real-time, into the Farmwave app on a tablet or mobile device inside the cab. It is completely battery operated lasting up to eight hours and requires zero cables. Typical deployments in beta testing have been less than 60 seconds.
Farmwave is in discussions with various OEM's regarding retrofit and future integrations that can use either Farmwave's HUB or direct into existing HUB's through the CAN or ISO-bus as we push towards future automation(s) throughout the machinery.